Winter hiking is completely magical, from the breathtaking cold air in your lungs to the serene hush of snow-covered pines. But winter conditions can be fickle and challenging, and preparedness is of utmost importance before setting out on any winter hike. Make your trip the best kind of memorable with these planning guidelines.
What should I wear?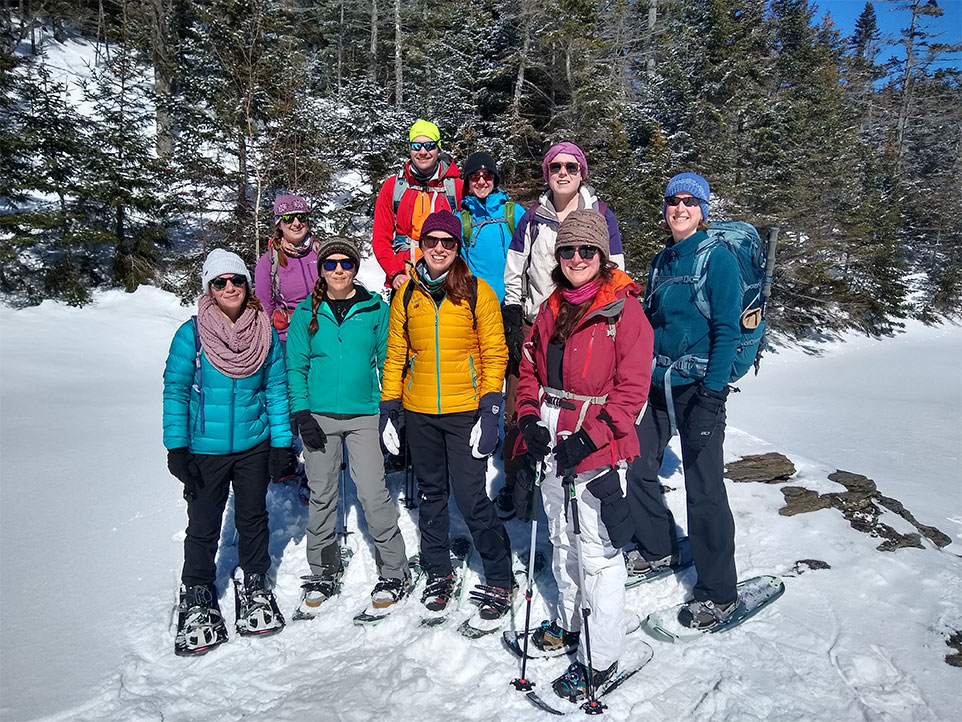 Proper layering can make or break your trip. Start with a synthetic wicking base layer on both top and bottom; add at least two insulating middle layers, and be sure to top it off with a water- and wind-proof outer shell later.
You may want rain or snow pants, and accessorize with wool socks, a winter hat, and lightweight gloves. Heavier options and spare socks in your pack are also critical. As always, remember: no cotton.
Getting started? We've detailed how to dress for, plan out, and enjoy your first trip.
How do I trek through the snow and ice?
Having the right footwear with proper traction is critical to tackle deep snow and ice. Choose from a variety of boot attachments — spike-less, spiked, or crampons — to ensure you'll have enough grip in the ice. (Learn more about these recommendations and price break-downs.)
Hiking through deep snow is exhausting and near impossible. Pack or wear snowshoes to avoid the frustration. Pro tip: always give yourself extra time than normally needed to hike in winter conditions.
What are good winter hikes to try?
Whether you're new to hiking in Vermont or looking for a fresh perspective, we've listed the best winter hikes by region and mileage. You can also follow our biweekly HikeVT, Love GMC series for suggestions:
Struggling to narrow it down? Our staff's favorites include Mount Elmore, Equinox Mountain, and Camel's Hump.
Bringing little ones with you? Check out these kid-friendly hikes. Interested in skiing? Check out the Catamount Trail for backcountry skiing recommendations or explore Vermont's 110 peaks above 3,000 feet, by skis.
GMC's Winter Hiking Guide to Vermont also lists more than 75 hikes throughout Vermont, with details about winter plowing and parking conditions.
What should I pack?
You have extra gloves and socks, foot traction, and layers. The next most important thing? Water and snacks. You're working harder in winter to keep warm and push through the snow. That burns extra calories.
We like to pack a thermos of hot chocolate or coffee, as well as (at least) two liters of water. For snacks, look for something full of sugar and protein (like granola bars) that won't freeze easily and is easy to grip with cold hands.
Always pack emergency essentials like a headlamp, fire starter supplies, first-aid kit, etc., even if you're just planning a short day-hike. See more on emergency planning below.
Hiking with children? We have the ultimate guide for dressing, transporting, and hiking with babies and toddlers.
Hiking with pets? Some breeds are born for the cold while others may need more gear to keep them comfortable. Consider a coat, booties, or paw wax to protect their feet. Additionally, choose a trail that is appropriate for your dog's ability. Are they physically fit enough to hike through deep snow for miles on a steep trail? You may need to choose a well-traveled and packed-down trail. Check out these tips and tricks for hiking with dogs before you head out.
What else should I plan for?
Whenever entering the backcountry, safety is paramount. Before setting out, let someone know where you're going, what trails you are hiking, and when you'll return. Get started with our HikeSafe information.
Weather: Be sure to check the weather and daylight hours ahead of your trip. In most circumstances, higher elevations mean cooler temperatures, and alpine zones offer little wind cover. Summit forecasts can be found on Mountain Forecast and the National Weather Service's Enhanced Mountain Point Forecast. Most importantly, be aware that mountain conditions can change quickly; know your limitations, accept when it's time to turn back, and postpone your hike if necessary.
Emergencies: Hypothermia and frostbite are real threats in winter. Your first-aid kit should include hand and toe warmers, a headlamp, waterproof matches and a whistle, an emergency blanket, duct tape, alcohol wipes, moleskin and adhesive bandages, safety pins, ibuprofen, a sewing needle and thread, and any personal medications you may need, just in case. Pro tip: don't expect to be rescued. Know how to rescue yourself.
[Related: Winter Hiking Safety Tips from VT Search & Rescue]
It's also helpful to have a map and compass. Finding white blazes in the snow can be near impossible. Follow our how-to videos to learn how to orient with a map and compass.
Leave No Trace: Despite slowed traffic, it's still essential to leave nothing but footprints… or snowshoe prints. Learn how to minimize your impact on the environment so the trails, campsites, and waterways look just as beautiful come Spring.
Parking: Some popular trailheads aren't accessible in winter. If you cannot park fully outside the travel lane, use an alternative parking area or choose a different trailhead. Additionally, respect winter parking signage. Visit newengland511 for information on road closures, road work, and incidents. Pro tip: stash a shovel and extra food, water, and layers in your vehicle in case of an emergency.
What about winter camping?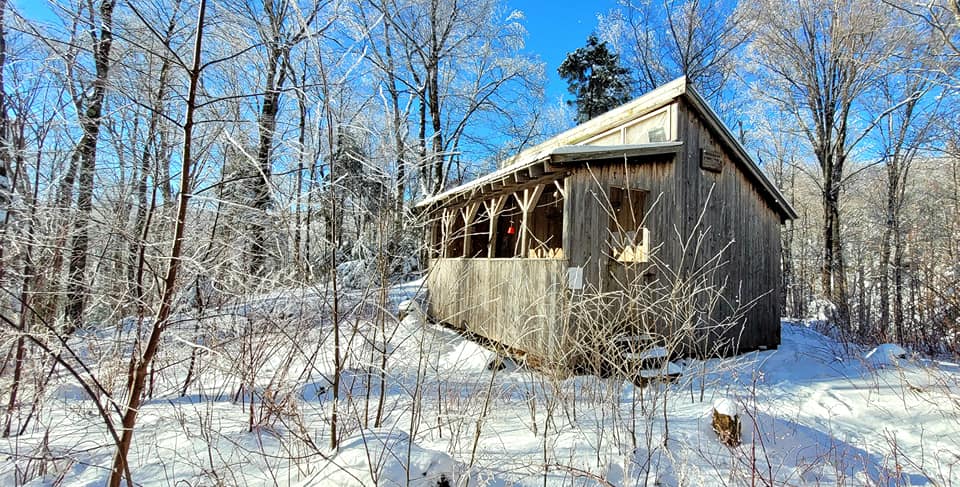 Shelters on the Long Trail are open year-round, unless explicitly stated by GMC. However, shelters are not maintained for winter use. This means GMC can't guarantee the cleanliness of shelters or privies in the winter, and you may be doing some of your own snow removal. As COVID precautions remain in effect, keep in mind that shelters should not be occupied by more than one household or group, so pack a four-season tent in case shelters are occupied when you arrive. See our Winter Camping Do's and Don'ts or this video on winter camping  for more information.
Spruce Peak Shelter near Manchester and Beaver Meadow Lodge in Morristown are great winter camping destinations. They're the only two shelters within the Long Trail system with wood stoves. Pro tip: only use dead or downed trees as firewood.
Thinking of thru-hiking? It's not recommended. Few have attempted the 272, snow-covered miles and even fewer have finished it. Here are some of the challenges these seasoned National Guard recruiters faced on their supported expedition.
Read advice from these attempted thru-hikes: Snowberry's advice; Keith's flip-flop thru-hike. As always, expect that you won't be rescued and know how to get yourself out of a less-than-ideal situation.
Ready for your hike? Remember, we're here to support a safe and fun journey. If you have any lingering questions, check our website or reach out to us directly: [email protected]. Happy trails!