This article was written by John Plummer, VHCB AmeriCorps member & GMC group outreach & field coordinator.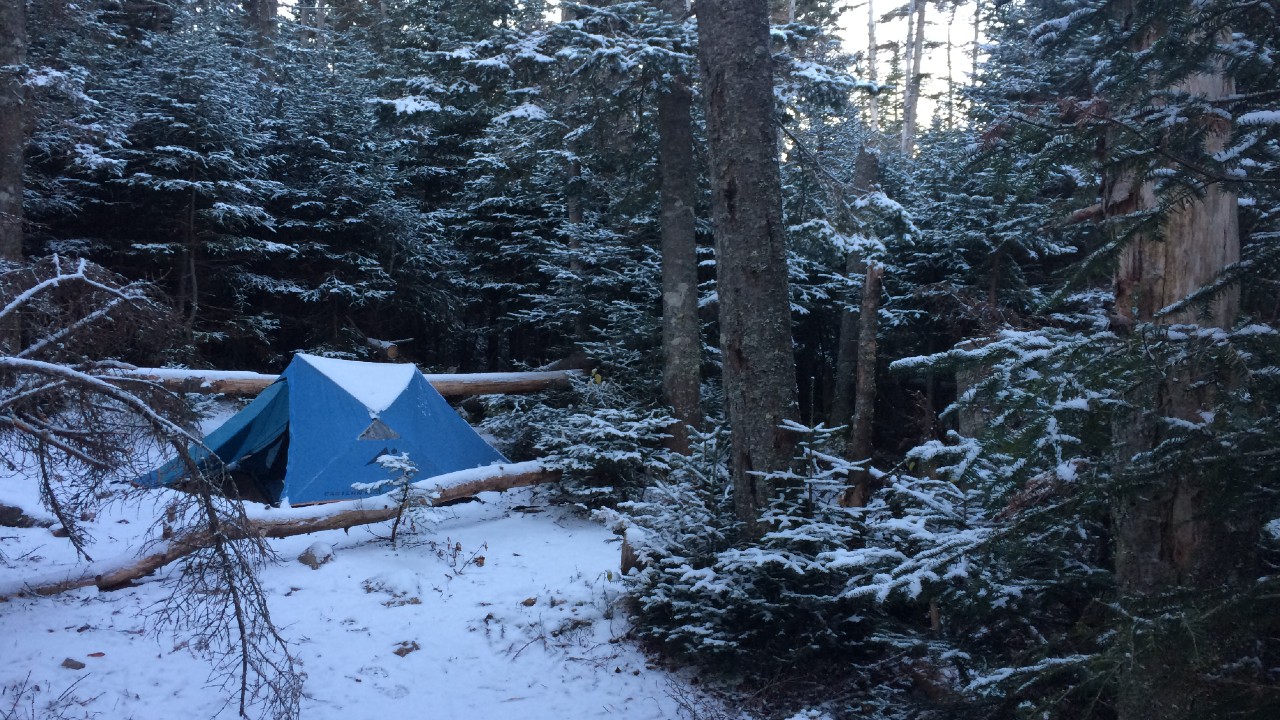 Winter camping can be very rewarding. There are no bugs, there are fewer crowds, you can see further through the forest. However, travelling in winter is challenging and poses risks that don't exist at other times of the year.
To set yourself up for success, get comfortable carrying and using your gear and spending nights outside in warmer months before adding the complexities of cold weather. Try a handful of winter day hikes in varying conditions as well. Winter camping is all about being prepared for anything and having plenty of gear to ensure you can be safe, no matter what you encounter.
Packing Up and Getting There
Before heading out on an overnight, read up on what to wear and how to layer for a winter day hike first.
In winter, you need to carry more and larger gear than in warmer seasons, so you need more space to store it. For cold weather overnights, a 65-liter pack is usually sufficient, though longer trips may require a larger pack. You should be able to carry tools such as hiking poles, shovel, or snowshoes on your pack for easy access – practice using your pack's lash points before you get out into the woods. Some people pull a sled to hold more gear for longer trips or when travelling in a group. When travelling overnight in winter, snowshoes or skis are essential, as traveling off trail will be necessary for getting water, cooking, and setting up camp. Always carry the ten essentials. Keep in mind that winter hiking is more difficult and slower going than other seasons, so be sure the trek to your destination is well within your group's ability. Plan to arrive at your overnight destination before sunset.
Making Camp: Tent or Shelter?
The Long Trail System is not maintained for winter use, but that does not keep us from getting out there to enjoy it! This means that the trail may be hard to follow and that facilities like shelters, privies, and wash pits which are available the rest of the year, will not necessarily be available in the winter. You may still be able to stay in a shelter, but you may have to dig it out of the snow. Spruce Peak Shelter near Manchester and Beaver Meadow Lodge in Morristown are great winter camping destinations. They are the only two shelters within the Long Trail system with wood stoves. Even if you plan to stay in a shelter, you should always bring a tent.
A four-season tent is necessary for high winds and heavy snowfall; however, a three-season tent is usually sufficient if you are camping below tree line and you are not expecting any precipitation. In cold weather, use a larger tent than in warmer weather to accommodate additional gear storage. When setting up a campsite, follow these guidelines:
If not in a shelter, camp on deep snow at least 200 feet from the trail and water sources
Look for an open area with no hazard trees (dead limbs) above.
Be sure camp away from avalanche zones. While uncommon, avalanches can happen in locations like Smuggler's Notch.
Use your snowshoes or skis to stomp out a tent platform. If conditions allow, you can wait 30 minutes before setting up your tent to let the pad freeze.
Use the Velcro tabs on your tent's rainfly to secure it to your tent. Also, using tent stakes intended for snow will ensure a tight rainfly.
Use a shovel or your snowshoes to dig out the snow under the tent vestibule to give yourself more space.
Keep sharps, such as skis, crampons and ices axes, away from your tent so as not to tear it.
Beware precipitation: Always know if there is snow or freezing rain in the forecast. If there is snow in the forecast, plan to wake up periodically throughout the night to clear snow away from the tent. Failure to do so will prevent the flow of clean air into your tent and could lead to fatal consequences.
When Nature Calls
In snowy conditions, when you need to pee, you can pretty much pee anywhere you feel comfortable doing so, provided you are away from the trail and water sources.
When it comes to Number 2, however, thing get a little more complicated. If you happen to be near a privy on the Long Trail, then you might be all set. However, since they are not maintained for winter use, you may be disappointed when you find a privy full to the brim! So, what to do? The ground is frozen, so you can't dig a cat hole. Mountaineers have had a tool to address this problem for many years: the WAG Bag. It is a plastic bag that is designed to make it as easy as it could be to do what you need to do, then seal it up, and pack it out securely. The bold will DIY a WAG Bag, the rest of us will use the verified thing.
More on this and other important topics in our Leave no Trace in Winter workshop.
Time to Eat
Eat calorie-dense snacks throughout the day and take the time to cook warm food in the morning and in the evening. Consider what it will be like to eat something when it is frozen. Eating warm food will keep you warm and keep your spirits up when it is cold out. Here are a few steps for cooking:
Use a stove that functions in cold weather. This includes most liquid-fuel stoves and some canister stoves. Be sure to test out your stove in winter conditions close to home before heading out on an overnight.
Make cleanup simple. Do not cook foods that create grey water (eg. pasta)
Do not cook in your tent! Make a wooden base for your stove to rest on the snow when in use.
Pack out any food scraps.
Carry extra fuel (even an extra stove) to ensure that you can eat warm food in cold weather.
Store all food securely so critters can't snack while you sleep.
…And Drink!
You may not feel thirsty, but you need to hydrate! When out for the day, you can usually carry enough water to keep yourself hydrated. However, when out for longer periods of time, you need to be able to replenish your water. In winter, that usually means melting snow.
Wide-mouth bottles are best for water storage in winter, rather than uninsulated reservoirs which more easily freeze.
Add a little water to your stove before adding snow to avoid scorching, which can give the water an off taste.
If you do not want to spend the time and fuel to boil water, you can treat it with chemicals like Aquamira. Water filters are not intended for cold weather use.
Make sure to insulate your water for storage so that it does not freeze.
Water freezes from the top down, so you should store water bottles upside down.
Time For Bed
When out for multiple days during the winter, it doesn't take long to notice how the day flies by. Not just because you are having fun, but the day is, indeed, shorter. When nightfall comes and you've eaten your fill, there is not much else to do but get in your tent and bundle up. Here are some tips for doing so:
Use a sleeping pad (or two) to insulate your body from cold surfaces. Consider the R-value, or measurement of insulation, in your pad. Look for an R-value of 4.0 or higher for cold weather.
Sleeping bags designed for cold weather use are typically rated from 0˚F to -40˚F. To ensure comfort, use a bag that is rated for at least 15˚F lower than the coldest temperature you expect to encounter.
Many people enjoy wearing down booties, pants, and mitts when in camp. All of these will add to the level of comfort.
Check your batteries. You will want to store your phone in your sleeping bag to keep it warm.
Get warm before going to bed: do jumping jacks or make a hot water bottle to bring into your sleeping bag.
Sleep with any clothes you want to wear the next day in your sleeping bag. The heat of your body can dry out damp socks or mittens while you sleep.
You can keep your boots inside your tent to keep them a few degrees warmer
Bring a book or something to entertain yourself while you are curled up in your tent in the dark and it's only 6 p.m.
Bring separate clothes to sleep in. This could be thermal base layers with wool socks, gloves and hat or just shorts and a t-shirt, depending on conditions and the warmth of your sleeping bag.
Above all, remember that winter weather can be fickle and quickly turn a normal situation into peril. Don't be afraid to change plans and turn back if weather shifts unexpectedly or a trail becomes impassable. Tell people where you are going and when you can be expected back. Make a night under the stars and amidst the snow drifts one to remember by planning ahead and preparing with these tips.