Your hub for outdoor recreation information in scenic Smugglers' Notch!
The Green Mountain Club partners with Smugglers' Notch State Park, Stowe Mountain Resort, and Lamoille County Planning Commission to manage, maintain, and operate the historic Barnes Camp Visitor Center as a gateway to Smugglers' Notch, Mount Mansfield State Forest, and the Long Trail during the summer and fall.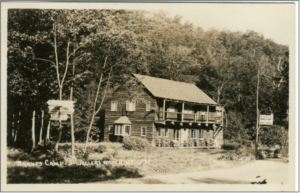 Built in 1927, Barnes Camp replaced an older logging camp built by W.M. Barnes that was destroyed by fire. Over the years, this historic structure was used for many purposes, including a lodging house for hikers, a ski dormitory, and housing for Green Mountain Club caretakers. In 2014, Barnes Camp underwent a complete renovation and special attention was given to preserving much of the historic charm of this property, including its live edge siding and large, fieldstone fireplace.
Conveniently located on Route 108 in Stowe, Barnes Camp is now used as a Visitor Center for the Smuggler's Notch area and a unique rental facility for the public to enjoy.
Visitor Center Hours
Summer and Fall (mid-May to mid-October):
Open Friday, Saturday, Sunday, and most holidays, 8 AM – 4 PM. Staffing subject to volunteer availability.
For hiking advice in Smuggler's Notch outside of these hours call 802-244-7037 or email [email protected].
Directions
Rental Information
All rental proceeds help to support the Barnes Camp Visitor Center. Although rental of this property includes exclusive use of the upstairs meeting room, the first floor Visitor Center may be open to park visitors during your event. At this time, rentals are only available during the Barnes Camp Visitor Center's open season (mid-May to mid-October).
Room Size:     545 square feet on 2nd Floor
Capacity:        The meeting room has a permit occupancy capacity of 60 people.
Included with the rental fee is:
Barnes Camp Visitor Center & Rental Venue
Use of the facility outside of normal operating hours
Exclusive use of the upstairs meeting room
2 bathrooms (shared with Park Visitors)
Use of utility/break room (Note: water from sinks is untreated rainwater and is not approved as  drinking water.)
Base Rates  for 2023:
Rental fee is $200.
Fee can be reduced for providing in-kind services. Please inquire about needs.
Questions? Contact Aaron Jacobs, Park Manager for Smugglers' Notch State Park: (802) 253-4014 or [email protected]
A Community Effort
Since opening its doors in 2015, the newly renovated Barnes Camp Visitor Center has been operated completely by volunteers. Barnes Camp volunteers staff the facility during operating hours, providing information and guidance to visitors on a wide variety of subjects including hiking routes, lodging, places to eat, recreational opportunities at Stowe Resort and elsewhere, and history of the notch and Barnes Camp. A small retail selection is also overseen by volunteers.  A wider selection of products can be found at GMC's Visitor Center in Waterbury Center, Smuggler's Notch State Park, and Stowe Mountain Resort.
Since 2016, visitation to Barnes Camp has grown from 3,000 visitors per season to over 10,000 and this number is expected to continue increasing. Now, more than ever, the Barnes Camp Visitor Center needs your volunteer assistance to continue serving a growing visitor population. For information on how you can become involved with this amazing group of dedicated volunteers, please contact us or fill out a volunteer application. Find us on Facebook for more photos and information.