Winter hiking can be glorious, but intimidating to get started. Below, we answer your frequently asked questions about winter hiking.
What's so great about hiking in the winter anyway?
Hikers choose to hike in winter for many reasons, whether it's fewer people on the trails, the different views and experiences from summer and fall, no bugs, the mental health benefits of getting outside and connecting with nature, or the extra challenges that winter hiking poses.
What issues are the most important to consider in order to safely hike in the winter?
Factors including experience level, trail difficulty, weather conditions, elevation, and gear are all important to consider to have a fun and safe hike. Think about who you are hiking with and the overall experience level and preparedness of the group. Taking on a difficult hike alone as an inexperienced winter hiker can raise the risks of winter hiking exponentially.
Keep in mind that you will move more slowly in the winter than in summer. Snow and ice are harder to walk on, and navigation can be more difficult. So, a hike that takes you three hours in the summer may take up to twice as long in the winter. Keep that in mind when planning.
What should I know about navigating trails in winter? Is it harder to navigate trails in winter?
With snowfall, white or faded blazes can be more difficult to follow. Keep an eye out for cut branches on trees, the shape of the trail corridor, and blazes to distinguish the trail. Have a paper map and compass and knowledge of how to use both. Phones are not a reliable source of navigation because battery life doesn't last as long in cold weather and cell service is spotty in the mountains.
What should I wear?
Dress in layers to stay dry and regulate your body temperature while hiking. It's important to be able to shed layers to minimize sweat, which leads to cold, and to be able to add sufficient layers back on to stay warm. Opt for wool or synthetic fabrics that dry quickly and wick away sweat and avoid moisture-retaining fabrics like cotton.
Layers should include a base layer, mid layer, insulating outer layer, and a wind or rain-proof shell. Cover exposed skin with items like a neck warmer or buff, hat or headband, gloves or mittens. Pack an extra base layer, outer layer, and extra socks.
For footwear, wear waterproof hiking boots with appropriate traction footwear: MICROspikes, crampons, and/or snowshoes. Trekking poles can help provide traction and balance as well.
What should I pack and carry on me?
Bring a daypack with room for the following:
Extra wool socks, an extra insulating layer like a squishable puffy jacket
At least two liters of water. Use an insulated bottle or store your bottle in a sock to keep it from freezing! Don't use reservoirs with a hose, which are more likely to freeze quickly
Plenty of snacks that won't freeze! Use a thermos for soup, or hot cocoa
The ten essentials in case of emergency
What are the differences between types of traction/snowshoes? When should I use which option?
MICROspikes

Attach to boots with rubber straps, metal chains with small spikes run underfoot
Good for packed snow and ice
Easy to pack and put on
Midrange cost at ~$60

Crampons

Attach to boots using a step-in, strap, or hybrid design and made of metal with long sharp spikes
Excellent traction on packed snow, ice, and steep climbing
Higher price than MICROspikes, heavier and more complicate to put on, bulkier to store and carry

Snowshoes

Attach to boots with straps
Creates larger surface area to pack down and stay on top of snow
Avoid postholing
Good for hiking through fresh deep snow
What are affordable gear rental options if I don't have my own?
Call the outdoor retailer nearest you to see if they offer traction rentals or used goods. Here are some we have confirmed recently in Vermont:
Nearby snowshoe rentals:
Can I use my cell phone when winter hiking?
You can! Just be aware: cold weather drastically depletes battery life, and your phone can freeze or die quickly. Carry your phone close to your body in an inner pocket to keep it from freezing. You shouldn't rely solely on your phone as a map and should conserve battery to be used to call for help in case of an emergency. Even then, cell service isn't a given on trail.
How do you keep your water from freezing during a hike?
Lots of strategies here! Store your water bottle upside down, so that the water near the mouth is last to freeze. Store it inside a warm sock or insulated case. Fill it with hot or warm water to delay the time it takes to freeze. Store it in the interior of your backpack away from the edges. Avoid using a CamelBak or similar water bladder as the hose freezes easily. Also, take tea, hot chocolate, soup, or similar warm liquids in a thermos for unfrozen fuel and hydration.
How can I find out the trail conditions before I go?
Call the GMC visitor center for information about trail conditions. Hikers and club members frequently send in recent weather reports. Other sources of information include online local hiking forums (like GMC's Long Trail hiking Facebook group) where often someone who has recently been to the area you're interested in hiking and will know about the conditions. You can search each group for recent posts in your area of interest or post a call for information.
Other safety precautions?
Hike with an experienced partner if new to winter hiking. Give your entire hiking plan to 2 people, including departure time and expected return, route, gear carried, and any alternative routes and plans.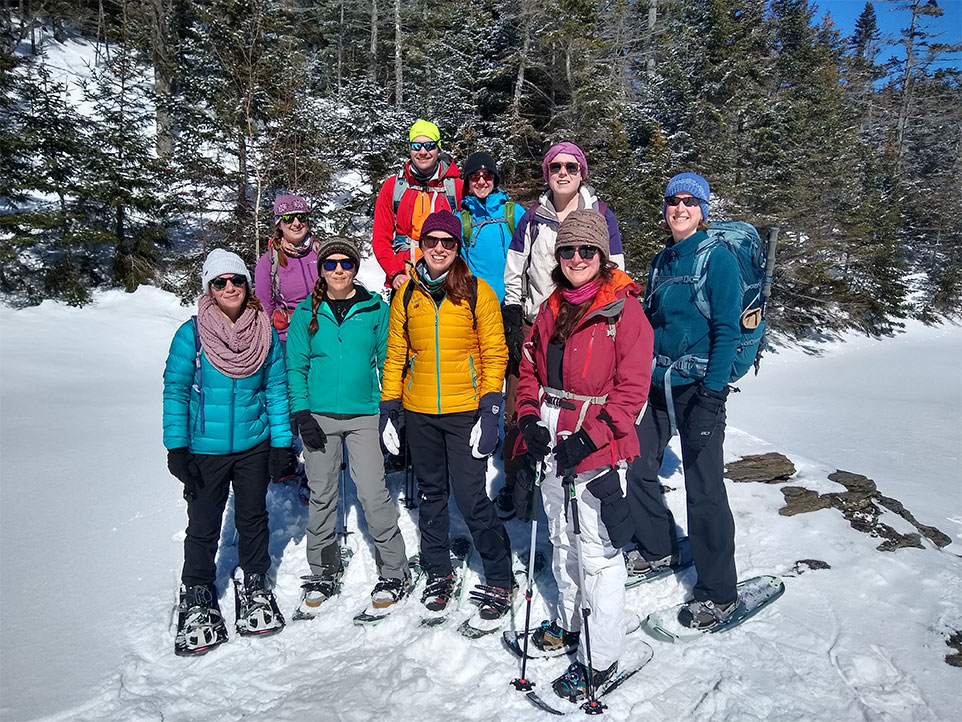 How can I find other people to hike with or gain experience from?
Join a GMC Section organized group hike, which are open to anyone but require pre-registration. On these hikes, you can meet other GMC members and experienced hikers and ask questions. You can also look at the Facebook groups for events and like-minded hikers, explore Meetup groups, and use local calendars like Seven Days and Front Porch Forum.
What resources are there to find hikes?
Visit GMC's Winter Hiking or HikeVT pages for hike suggestions and information on trail difficulty levels and descriptions. If you prefer paper, pick up a copy of the Winter Hiking Guide from GMC's store.
How can I plan for winter hiking with kids?
Looking to include kids in your winter adventures? Check out GMC's recommended family-friendly and accessible trails. Try different learning activities and identification apps to make hikes even more engaging and fun. If winter hiking with babies or toddlers, make sure they're warm and dressed in layers – a general rule of thumb is to dress them in one more layer than you feel comfortable in. Other pieces of advice are to start small, be flexible, and pack plenty of water and snacks!
Other related blog posts about winter hiking and hiking FAQs:
What other questions do you have? Leave a comment below or email the visitor center.