This article appeared in the Summer 2021 Long Trail News under the headline "A Day in the Life of a Long Trail Thru Hiker." It was written by Thalita Ribeiro.
Whether folks had more time on their hands or simply sought the solace of nature, the Long Trail saw a lot more use during the pandemic. A record 555 hikers submitted End-to-End applications in 2020. Completing the 272 miles is a major accomplishment, whether covered in sections or all at once. Curious about the details of undertaking a Long Trail thru-hike? Thalita "Wolf Mama" Ribeiro, who thru-hiked the Long Trail in 2019 with Nala, her German shepherd, takes us through a typical thru-hiker's day.
6:00 A.M., Mile 179: I wake with bright sun streaming into Bamforth Ridge Shelter. It's day 23 of my 36-day Long Trail thru-hike.
Nala, my German shepherd, welcomes me every morning with a face lick. Yesterday we hiked 10.5 miles, up and over Burnt Rock Mountain, Mount Ethan Allen, and Camel's Hump. We're both tired and a bit stiff, but after a couple weeks the body adapts surprisingly well.
6:15 A.M.: First things first: I visit the privy.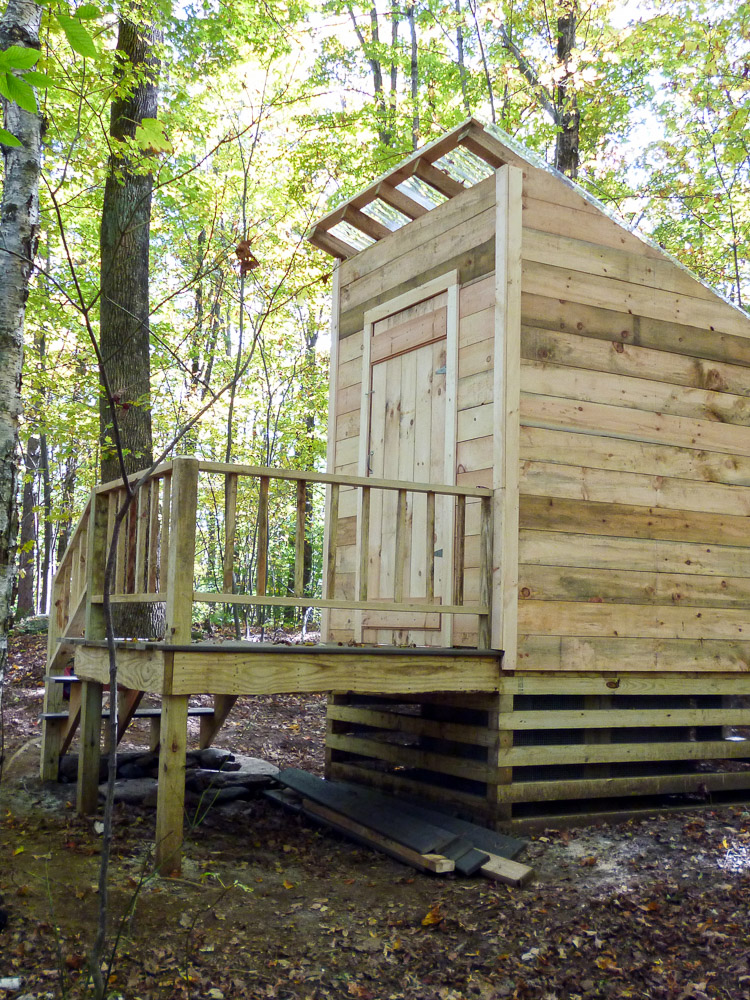 I take a washable pee cloth (Kulacloth) so I don't have to carry toilet paper. I also have a small packet of baby wipes. I carry dirty wipes in a Ziploc trash bag, since they don't break down easily.
6:30 A.M.: I grab my bear hang to make breakfast.
I use a sealable dry bag that I hang 12 feet up in a tree at least 100 feet away from the shelter or trail. Other food storage methods include bear boxes or bear canisters, but proper storage is essential. I boil water with my MSR stove, make instant coffee, and eat hot oatmeal straight from the bag. I serve Nala kibble in her collapsible bowl.
6:50 A.M.:  I throw Gatorade powder into the Nalgene, shove Clif bars and a Ziploc bag of crushed potato chips into my pockets for snacks as I hike, and prepare to set off.
I refilled my 3-liter water bladder and my Nalgene before going to bed, so that's one less thing to worry about. Nala carries her food, treats, bowl, leash and protective paw wax (Musher's Secret Wax). I put on my boots, cover myself with bug spray, and  chat with the other overnight hikers. Today Nala and I plan to hike just over 12 miles to Buchanan Shelter. I turn on my Garmin InReach satellite communicator, update our location for loved ones, and we set off.
7:50 A.M., Mile 180: Nala and I arrive at an open ledge. I turn around to see a last clear view of Camel's Hump and the miles I covered yesterday.
It's really amazing to think how far my body has carried me over these mountains — and here I am, feeling stronger every day.
8:45 A.M., Mile 181: On a steep downgrade to the Winooski River Valley I slip and fall on wet leaves a couple of times. I lie there for a few seconds, and can feel my knees are getting a bit sore. I break out my stash of ibuprofen (a.k.a. vitamin I) and take two.
10:30A.M., Mile 182: Today is a resupply day.
Most Long Trail hikers go into town to recharge and resupply. Because I wanted Nala to eat her usual food, I arranged dead drop resupplies, courtesy of my boyfriend. At the trailhead on Duxbury Road I see a Home Depot bucket tied in a tree, labeled with "For Wolf Mama and Nala" and my expected pick-up date.
Inside I find the next few days' worth of food, a charged power bank, stove fuel, bug spray, toothpaste, baby wipes, vitamins, chewing gum, Ziplocs, and socks and underwear. Sometimes I find candy or a small can of Coca Cola. Leaving trash, extra food, and any other surplus weight, I rehang the bucket for my boyfriend to retrieve.
11:00 A.M., Mile 182: Since I'm stopped, I pull out my Therm-a-Rest butt pad and sit down for my usual lunch: Tuna Creations with chips and mayonnaise wrapped in a tortilla, an idea from Appalachian Trail thru-hikers I met early on. The energy boost, salt and crunchiness quickly made it my go-to.
12:30 P.M. Mile 183: Walking down the paved Duxbury Road feels strange after being in the woods so long.
I feel like a wild animal, covered in dirt with sticks and leaves in my hair. Suddenly the trail veers off the road, and we climb a stile into farmland and pass through fields of grass and wildflowers. So much of the trail is the notorious tree-shaded green tunnel that the change of scenery is welcome.
12:45 P.M., Mile 184: Nala and I cross the Winooski River footbridge.
A group of teenagers swimming below know I'm a thru-hiker because of my big pack, and they wave and shout encouragement. I know by now that a thru hiker in Vermont is tantamount to a celebrity, so I do my best to be a good ambassador for the trails. Onward.
1:15P.M., Mile 185: Reentering the woods we find a white foam cooler: trail magic.
My mouth waters for a sweet, cold beverage, but unfortunately I find only empty soda cans. I feel crushed by this small piece of bad luck, wishing I had been here just a few hours earlier. But I can't dwell on negatives, I have more miles to go.
5:00 P.M., Mile 191: We've been hiking for what feels like an eternity on a long, slow uphill in the green tunnel.
Usually I hike with Nala and my own thoughts, but occasionally I catch up with another thru-hiker or two, and pass some miles chatting. After a few miles of PUDS (pointless ups and downs), I finally see the sign for the Buchanan Shelter spur trail. It's invigorating to know we're finally almost at camp, just another 0.3 miles to the shelter.
5:15 P.M., Mile 191: I immediately collapse like a sack of potatoes on one of the bunks. I just relax for a few minutes before diving into my long list of camp chores.
5:30 P.M.: Nala and I are alone tonight. After a quick pit stop at the privy I unpack my sleeping gear and set up in the shelter. I use shelters about half the time. I used my tent a lot more in the southern half, because shelters were full of AT thru-hikers. Buchanan Shelter has a front door and a door to the sleeping area, so it's pure luxury compared to the typical three-sided lean-to on the Long Trail.
I do my best approximation of a shower with baby wipes and baby powder (great for chafing!). Then I do "laundry": change into my camp clothes, and hang today's hiking clothes up to dry. I grab my stinky socks and underwear, cooking pot, water filter, and water containers, and follow the sign to water.
6:00 P.M.: I refill at the shelter's water source.
At a small brook a few hundred feet from the shelter I set up my Katadyn pump filter and pump clean water into my containers. Filling once a day is usually enough unless it's a particularly long or hot day, when I stop occasionally and filter more. I finish my laundry, which consists of soaking and rinsing my dirty underwear and my buff in water and wringing them out a couple hundred feet from the water source. Nala laps up water while I soak my feet in the cold brook for the perfect refreshment.
6:30 P.M.: With small twigs and dead leaves I make a small fire in the fire ring, boil water on my stove, and I can finally relax. Dinner is kibble for Nala, two packets of beef ramen for me. I'm so hungry I can't even think about anything else. I savor every bite by the glow of the fire. I build a fire in camp as often as possible; I find it's the perfect way to feel warm and relaxed. However, fires are prohibited at some high elevation shelters.
8:00 P.M.: The sun is setting, so I head into the shelter for my nightly routine.
Nala lies down in a corner and gets comfy, and I massage her legs a bit to relax her muscles. Nala and I went on many training hikes where I slowly added weight to her pack to get her used to carrying several days' worth of food. She constantly runs back and forth on the trail, even when we're climbing, so the miles are as hard on her as they are on me. But she is always ready for more.
Read more: Thru-Hiking the Long Trail with your Dog
I do a quick tick check on Nala and myself, then plug my phone and satellite tracker into the power bank to charge overnight. I take more ibuprofen and crawl into my sleeping bag with my journal and guidebook.
8:30 P.M.: I read my guidebook to plan for tomorrow, when I hope to reach Taylor Lodge.
That would put me in position to climb Mount Mansfield, the highest peak in Vermont, the following day. I use the Long Trail Guide to plan each day's hike. While each day has its challenges, I feel an immense sense of accomplishment I don't find in everyday life. This feeling is what it's all about. With a big smile I drift off to sleep, ready to wake up tomorrow and do it all over again.